Teaching Professionals
Michael Mancz – First Assistant Golf Professional
Michael Mancz is the First Assistant Golf Professional at The Bridge Golf Foundation and Learning Center and is a member of the PGA of America.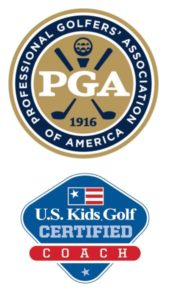 His journey in the golf industry started in 2012 after graduating from Wright State University in Dayton, OH. Michael has a passion for teaching and growing the game, and he strives to make golf as rewarding as possible for his students.
His teaching philosophy begins first with mastering the basics. Without a solid foundation, the golf swing becomes that much harder. He then looks to the swing, working to get the body and club moving in a way that will reduce the amount of compensations needed to produce solid, consistent golf shots. Along with teaching, he is responsible for helping to manage the day-to-day operations of the entire golf operation at The Bridge Golf Foundation and Learning Center.
You can contact him at michael.mancz@bridgegolflearningcenter.com.
Tyler Lower – Teaching Professional
Tyler Lower's golf career has taken him from his home state of Wisconsin to Florida and the New York City area, where he's worked at several clubs, including The Golf Club of Purchase, Fairview Country Club, and the Whippoorwill Club. His most recent position was at Burning Tree Country Club in Greenwich, CT. Tyler has also honed his teaching approach at the Jim McLean Golf School in Florida.
He brings great enthusiasm and passion, and no shortage of knowledge, to helping golfers of all skill levels improve their swings.
You can contact him at tyler.lower@bridgegolflearningcenter.com.
Erik Easton – Teaching Professional
Erik Easton is also a teaching professional at The Bridge in Bridgehampton and understands, like many others who keep a putter in their living room, that golf is more than just a sport.
"Golf is what gets people up early on their day off, it's what keeps us out in the cold and rain, and it's the reason we're excited for Friday afternoon," he says. "But it can be frustrating and intimidating, and that's why I love teaching and coaching my students so they can better enjoy the game."
Erik believes in the importance of sound fundamentals. By helping his students understand these fundamentals, they are able to improve their skills and better enjoy the game.
You can contact him at erik.easton@bridgegolflearningcenter.com.