Teaching Professionals
Brian Hwang – Teaching Professional
Brian Hwang specializes in developing personalized training programs specific to each individual client. Rather than focus on technical flaws, he emphasizes the importance of critical moments in the swing. Hwang focuses on establishing a core foundation of fundamentals and fine tuning the key points in the swing, rather than teaching the ideal traditional swing.
Utilizing TrackMan analysis and his swing philosophy, his students always have the edge to improve and move on to the next level.
Hwang was a member of the University of Connecticut golf team from 2009-12. In 2010, the Hauppauge, New York, native played in the U.S. Amateur at Chambers Bay in Washington state.
Previous teaching experience includes the Nike Golf School as a Teaching Instructor for four years. He was also a program director for Sports and Arts in Schools Foundation, creating After School golf programs for inner city kids. His most recent assignment was at Port Jefferson Country Club as an Assistant Golf Professional.
Hwang's professional clients include Brian Hughes (Web.com/PGALatino America/Canada), Jeb Buchanan (PGA Latino America/Canada; 2015 New York State Open Champion), Pat Wilson (PGA Latino America/Canada; 2015 US Open participant), and Gerry Mackedon (2016 St. John's Golf commit).
You can contact him at brian.hwang@bridgegolflearningcenter.com.
Randy Taylor – Teaching Professional
Randy is currently a PGA Associate and Mizuno Golf Brand Ambassador. He began his professional career teaching clinics at Brooklawn Country Club in Fairfield, CT. In 2006 he went on to become Program Director for the First Tee of Fairchild Wheeler Golf Course in Bridgeport, CT, where he created successful player development programs for students of all skill levels.
He enjoys working with his students on understanding the biomechanics of the golf swing. Randy believes that the more students understand the best way to limit unnecessary body movements, the easier it will become to execute an efficient golf swing. His detailed teaching approach incorporates the best player development tools such as TrackMan, K-Vest 3D motion, and TPI Biomechanics.
Randy continued to increase his professional teaching experience as Director of Instruction for Nike Golf Schools, LPGA Girls Programs, and Assistant Coach for the Men's and Women's Division I golf teams at Sacred Heart University in Fairfield, CT. In 2011, Randy helped lead the SHU Pioneers men's team to a Northeast Division I title and an NCAA regional appearance. Randy also served as a Teaching Professional with the Mitchell Spearman Golf Academy at Doral Arrowwood in Rye Brook, NY, and Billy Casper Golf at Lyman Orchards Golf Club in Middlefield, CT.
Randy proudly serves on the Board for the Wakeman Boys/Girls Club in his hometown of Bridgeport, CT.
You can contact him at randy.taylor@bridgegolflearningcenter.com.
Michael Mancz – First Assistant Golf Professional
Michael Mancz is the First Assistant Golf Professional at The Bridge Golf Foundation and a member of the PGA of America.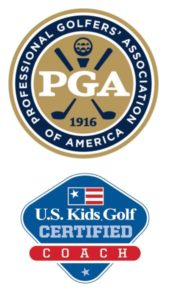 His journey in the golf industry started in 2012 after graduating from Wright State University in Dayton, OH. Michael has a passion for teaching and growing the game, and he strives to make golf as rewarding as possible for his students. His teaching philosophy begins first with mastering the basics. Without a solid foundation, the golf swing becomes that much harder. He then works to eliminate swing faults as soon as they arise by dissecting the swing into stages.
Breaking the swing down helps to simplify the movements being made and promotes a better understanding for his students.
Along with teaching, he is responsible for helping to manage the day-to-day operations of the entire golf operation at The Bridge Golf Foundation and Learning Center. Michael is a PGA Class A Member and a U.S. Kids Golf Certified Coach.
You can contact him at michael.mancz@bridgegolflearningcenter.com.