The Bridge Golf Foundation is holding its second annual Water Fair on March 24 to raise awareness of the many environmental and socioeconomic issues surrounding the use of this most precious resource.
Why a Water Fair?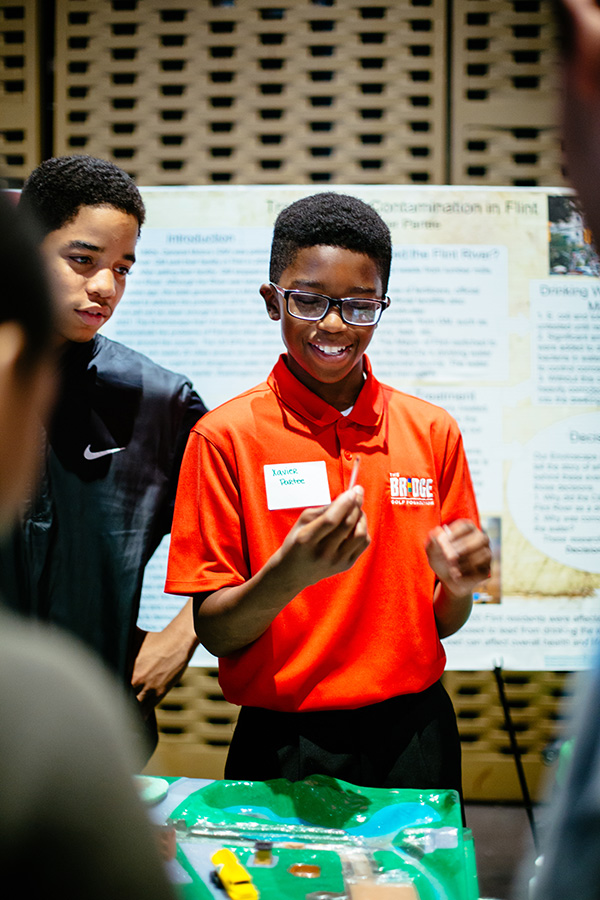 As one of our core values, our Foundation believes that golf can change the world for the better. The Foundation has made water, and projects surrounding water, a major focus of our STEM and community service learning for the young men participating in our after-school programming.
This work is part of a growing movement to have the golf community and golfing sector become drivers of solutions that are grounded in truly sustainable water-management practices.
The golf industry is water-dependent. As our nation and other nations face ever-increasing water insecurity, the avid players, professionals and scientists who care about this game are an incredible resource for ideas, action, funding, and support.
What Will Happen at the Water Fair?
The fair will feature exhibits by our students and their peers from The Eagle Academy for Young Men of Harlem. Last year our student projects included a portable tippy-tap, an analysis of the Flint water crisis, and a tower garden. This year our students are working on the following projects:
Comparative Analysis of Conventional and Vertical Garden in the Urban Setting: Students will construct a tower garden and a conventional indoor garden, monitoring the efficiency of both models for water use and conservation.
Taking a Prototype to Market: Students are using Arduino to create an ultra-efficient sprinkler designed to make conventional sprinklers obsolete.
Cholera Epidemics — The Water/Bacteria Dynamic: Students will cultivate and treat their own populations of bacteria to better understand how bacteria grow and pass on drug-resistance.
Water/Energy Nexus: Students will research hydraulic fracturing from an earth science, socioeconomic and environmental perspective.
Aquatic Garbage Collector: Students will use an engineering approach to find solutions to the global problem of ocean trash.
Water Filtration and Access to Clean Water: A Study of osmosis and reverse osmosis and its applications. Students will learn about the processes of removing contaminants from water as well as the role of desalination for water-stressed regions in the United States, the Middle East and Africa.
Water and Climate Change: How global warming impacts water. Students will analyze data on natural processes like the water cycle, sea level rise, precipitation, and drought and floods and interpret multi-year trends through computer software and graphical visualizations.
In partnership with The Eagle Academy and the Columbia Water Center at Columbia University, the Water Fair will be the culmination of months of work by dozens of young men in grades 6-9. Their exhibits will include posters, videos, technology-based activities, and hands-on experiences designed to support active learning and dynamic exchanges with their fellow students, family, friends, educators and community members.
Students will also highlight actions we can all take to make a difference in conservation and social justice issues related to water, including our direct support of Golf Fore Africa's work to bring clean water to rural villages in Zambia.
How Can You Help?
The Water Fair is open to the public, and we would love to see you there! You can get your free tickets on Eventbrite. If you would like to support the fair financially, you can make an online donation with this form. (Choose "2018 Water Fair" under "Designation.")
Where and When?
Saturday, March 24, 2018, 11am-2pm
MIST Harlem
46 West 116th Street
Harlem, New York