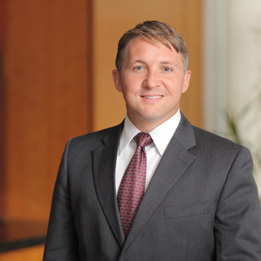 James Day is an attorney in the business group of Baker & Hostetler LLP, where he advises clients on litigation, transactions, restructuring, and intellectual property.  He represents investment managers and other clients in transactions and controversies requiring complex financial analysis, including representing Irving H. Picard, Trustee for the SIPA Liquidation of Bernard L. Madoff Investment Securities LLC.
Before becoming a lawyer, Jim was an active duty officer and military intelligence analyst in the U.S. Navy for seven years.  He also served as a Visiting Professor at Universidade Eduardo Mondlane (UEM) in Maputo, Mozambique, where he taught entrepreneurship and business planning in UEM's MBA program.
Jim and his wife live in Harlem, where they operate a business that provides work, travel, and educational exchange programs for international students.
At the Naval Academy, you were the captain of the golf team and a two-time All-Patriot League selection. How did you balance the academic and physical demands of being a Midshipman with a busy golf season?
The coaches of some of the teams we used to play at Navy sometimes tried to motivate their athletes by warning them, "for these Midshipmen, going to practice is the highlight of their day."  When your sport happens to be golf, that is probably true no matter what university you attend, but at Annapolis it was especially true for me.
Going to golf practice was the way I would clear my head from all the stresses of the Academy, and golf still functions in my life that same way today.  Interestingly, I often got my best grades when my sport was in season; perhaps the time pressure made me more focused, or maybe the golf season just made it easier to concentrate when I needed to. Either way, I am grateful to have had the opportunity to play Division I college golf at a wonderful institution for a good coach (Pat Owen) and good teammates.
Give us a day in the life of a Surface Warfare Officer aboard a ship?
It is difficult to describe a "typical" day. You are usually on a 3-section watch routine, which means you spend 1/3 of each day standing watch — "driving" the ship from the pilothouse, manning its combat or engineering systems, or performing some other duty that requires constant attention over a 4- or 5-hour "shift." This is in addition to performing your job function (at various points I served as the ship's Communications Officer, Gunnery Officer, and Anti-Terrorism Officer), and trying to do things like eating and sleeping.
The time period when you are on watch never repeats, so on Monday you might have the morning watch and the midnight-to-5-am watch, but on Tuesday those times would be different, so it becomes impossible to establish any sort of regular sleep/work schedule.  The ship is always doing different things depending on what phase of its training/deployment schedule it happens to be in.  And, of course, if on deployment, the day is going to be interrupted by developments in the ship's mission and who you run into while on patrol.
How much did you miss golf during these deployments?
On deployment in the Arabian Gulf (enforcing UN trade sanctions against Iraq), I wasn't really thinking about golf all that much, although I did get to sneak in a round at Dubai Creek when the ship pulled into that port, so that was fantastic.  My last deployment, a counter-narcotics mission to South America, happened right at the beginning of the invasion of Iraq, so, again, golf was pretty much out of sight, out of mind.  I was fortunate to have been stationed on ships that were homeported in Mayport, Florida, near TPC Sawgrass.  When in homeport, the ship's workday starts early — 5:30 or 6 am — but often ends early, too.  So from time to time I took advantage of that schedule to work on my golf game.
You are a frequent visitor to the Learning Center in the mornings before you head to work.  What are you trying to accomplish during these early morning practice sessions?
When I come to the Learning Center, I am trying to bridge the gap between the kinesthetic sensations I can control and the shot outcomes I can't entirely control.  The granularity of the data and the intuitive user interface that TrackMan provides make it possible for me to physically sense what a 145-yard shot "feels" like versus a 137-yard shot.
The amount of confidence that can provide cannot be overstated.
As a low single-digit handicapper with a wealth of tournament experience, how has the Learning Center helped you?
The Learning Center, in my view, is the best thing that has happened in Harlem since my wife and I moved here four and a half years ago.  I can't tell you how excited I am to have such a high-quality facility in our neighborhood.
My familiarity with TrackMan prior to the Learning Center's opening was limited to club-fitting, and I didn't realize how valuable it is as a training aid.  I now get why Tiger Woods identified TrackMan as the biggest change he has seen in golf since he began his professional career.  Despite having limited time to practice between my family and professional life, this year I had one of the best ball-striking rounds of my entire life in the second round of the Met Open. I made the cut and hit 14 greens on the same course (Glen Oaks) and from the same tees where the pros will be playing The Barclays on the PGA Tour in 2017.
Your young son is starting programming this fall in golf and STEM in the Learning Center.  What do you hope he gains from the experience?
I am not attached to any particular outcome, but I am committed to giving him the same opportunity I had growing up: to experience golf as an outlet for personal growth, athletic achievement, learning, and friendship.