Gina Ahn, an educational researcher who is pursuing a doctorate in developmental psychology, is taking lessons at The Bridge Golf Learning Center. She recently fielded some questions from Executive Director and Co-Founder Farrell Evans.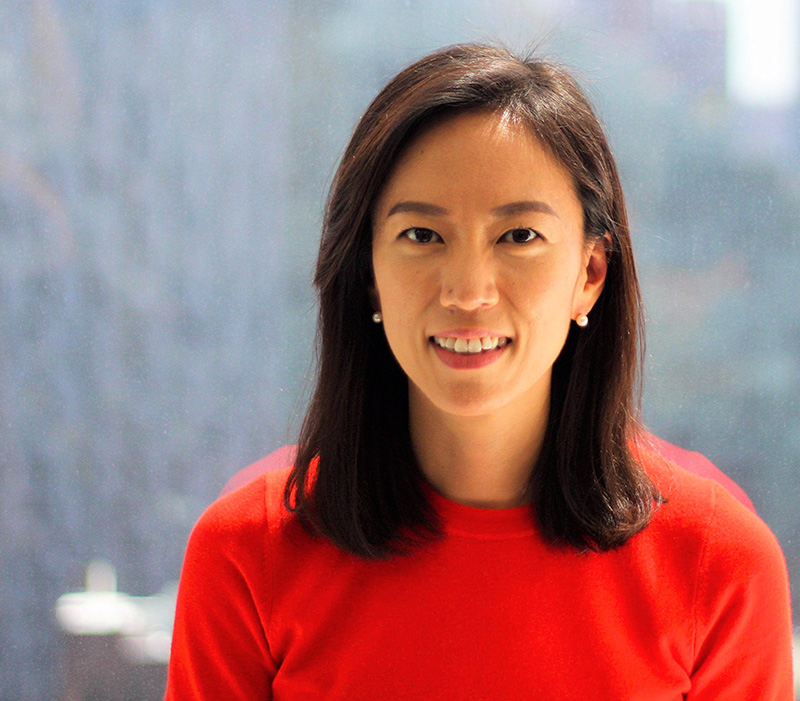 FE: Over the summer, you became a regular student of Brian Hwang's at the Learning Center. What led you to make this decision to take up golf seriously?
GA: Several reasons – this sounds pretty cliché, but I was going through a rough time and realized that I hadn't really invested in myself in the past few years. I also had "summer Fridays" at work, which meant I had six Fridays off in exchange for longer hours Monday through Thursday, so I wanted to make the most of my free time. Most importantly, my mom is an avid golfer and it's been her long-time wish for my two sisters and me to pick up golf so the four of us can play together. She insists that it's the only shared activity we can enjoy in the future when she's much older.
FE: What's been your progress in the lessons with Brian?
GA: Brian has been really patient with me. On some days I feel like I'm making really good progress. On others I feel like I regress and resort to some bad habits I've picked up in the past. I think that's partly why golf is so fun for a lot of people; it's extremely frustrating at times, but when everything falls into place and you hit a good shot, it feels amazing. We've been working on following through with my arms (and not flipping the club with my wrists after impact, which I do a lot), and shifting my weight and using more lower-body strength.
FE: You are a Ph.D. student in developmental psychology at Columbia's Teachers College and a research analyst at the CUNY Office of Research, Evaluation and Program Support. Tell us about your research?
GA: I study early childhood in my own research. I've looked at parenting differences across different family structures. Increasingly, low-income children are born to single or cohabiting parents. Compared to children in married-parent families, children of single or cohabiting parents are at increased risk of adverse outcomes. While there are a lot of factors that contribute to this, many of them interrelated, I'm most interested in parenting differences. I was also a part of the research team at Teachers College that examined the implementation of Mayor de Blasio's Pre-K for All initiative, which mandated free pre-k for all 4-year-olds in New York City.
At CUNY, I do program evaluation work in the higher education space. Our team works with various CUNY programs to design and implement evaluations that measure the impact that programs have on student outcomes. CUNY propels six times the number of low-income students to the middle- and upper-middle class compared to the eight Ivies and four other top universities combined, and I enjoy being a part of CUNY's mission of being a vehicle for upward mobility for disadvantaged students.
FE: At The Bridge Golf Foundation, we deal a lot with the differing levels of environmental influence on boys and young men of color, from family settings to the criminal justice system to societal stereotypes to the structural inequalities that limit their mobility in education and the workplace. How important is it to understand the exposure to trauma, stress and social disadvantage in understanding the inner lives of these young men and their outcomes in the world?
GA: I think it's extremely important to acknowledge and understand the various structural and environmental factors that limit the economic mobility of certain groups of people in the United States. Research has shown that exposure to toxic stress and trauma in the early years of a person's life inhibits the formation of neural connections, which further prevents the regular development of the array of abilities that help children successfully navigate the world. These developmental setbacks in early childhood are not irreversible (and in fact, youth are pretty resilient and have super malleable brains), which is why I think it's so important for programs like The Bridge to work with adolescents who may not have had access to the same resources and opportunities as more advantaged youth.
FE: How important is the role of the research community in framing some of these questions for policy and interventions at our level, for example, that could lead to measurable change for young men of color?
GA: Incredibly important — this is my full-time job! I think the role of the research community in identifying elements of successful programs is invaluable, and research should always help frame intervention programs and policies that serve children and youth. Unfortunately, sometimes it's really difficult to measure change and impact. I used to work at a charter school in the South Bronx that focused on character education (like The Bridge), and it was extremely difficult to show quantitatively the impact that character education curricula had on student outcomes even though teachers were consistently saying that character education was an integral aspect of the school's model.
FE: What's the last book you read and why?
GA: I recently read "You'll Grow Out of It" by Jesse Klein. It's a great summer read, really humorous and made me laugh out loud multiple times. A lot of the reading that I do for work and school is dense and dry, so it felt like a good mental break.
FE: What are your long-term goals as a golfer?
GA: Brian assigned me the long-term goal of having to make 30 birdies in my 30s, so that's what I plan to focus on. My short-term goal is beating my younger sister when we play this Thanksgiving.