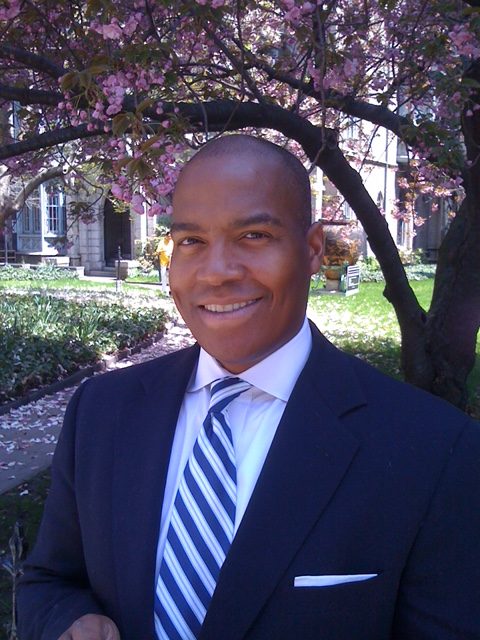 Serge Vatel is a retired attorney, equity trader and private real estate investor who has been taking lessons with Teaching Professional Brian Hwang at The Bridge Golf Learning Center. He has a BA in Economics from Middlebury College, an MPA in Public Finance from New York University, and a JD from the University of Pennsylvania School of Law. He recently fielded some questions from Co-Founder and Executive Director Farrell Evans.
FE: What's your personal background?
SV: I'm from Brooklyn and grew up in predominantly West Indian communities in the Brownsville, East New York and Flatbush sections of the borough. Needless to say, no one played golf. As a child, I mostly played stickball, baseball, basketball and football (manholes were first downs and parked cars were out of bounds). Now I live in Bedford-Stuyvesant with my wife, Kerone, and children, Taylor (11) and Jackson (8).
FE: How did you get into golf?
SV: I was introduced to the sport in the early 2000s while working at Merrill Lynch as an equity trader. Golf was very big on the trading desk and served as one of the main mechanisms by which professionals socialized and networked with one another in the financial services business on Wall Street. It dawned on me pretty early that those on the desk who could play golf well had many more opportunities to share in a common interest and develop a more personal relationship with colleagues, senior management and clients.
Monday morning water cooler talk on the trading floor typically centered around golf and three basic yet very meaningful questions: (1) where did you play this weekend; (2) who did you play with; and (3) how did you play? That was all I needed to know about whether or not I should pursue the sport. Although I decided to take up golf initially as a vehicle to enhance my career prospects at my firm, that quickly changed into a genuine love and profound appreciation for the game. Thank God those water cooler conservations didn't revolve around bowling.
FE: Why do you love golf?
SV: Golf combines three of my passions: competition, fellowship and the outdoors. First, it's a game of skill and one of the only sports where gender and age don't really matter. It's the great equalizer. For those of us who are competitive, golf provides a unique opportunity to stay active and committed to a sport for the remainder of your life. There is always room for improvement, and that can only happen through more practice and play. Plus the handicap system promotes true competition unlike any other sport because it creates parity among players of different skill levels.
Second, golf is a great way to bond with friends and strangers alike. I love playing with people from very different backgrounds and learning something about their lives or sharing something personal about mine. More often than not, you walk away with a new friend. Speaking of fellowship, what other sport allows you to play a competitive game at a high level all while gambling, drinking and smoking cigars? Zero.
Lastly, playing golf is a great way to bond with nature and enjoy the outdoors. Whether you're playing parkland, links, desert or mountain golf, there is always a beautiful moment during a round, whether it's a famous hole or panoramic vista view, that absolutely steals your breath away. I live for those moments, provided that I par the hole of course.
FE: What frustrates you the most about playing golf in NYC?
SV: Put it this way: my wife thinks that golf, like cricket, is an all day event. Living in the city and being a golfer is hard. My suburban friends who live minutes away from their clubs routinely play a round of golf under 4 hours and they have the great flexibility of playing in the early mornings or late afternoons. Compare that to a round at Bethpage where you wake up at 5am, leave at 6am, get to the course at 7am, tee off at 8am, finish at almost 2pm. Done with lunch at 3pm. Home after 4pm. There are not too many golf weekend passes forthcoming under those circumstances, I don't care how often you take the trash out.
The other thing that frustrates me is that Brooklyn is one of the wealthiest areas in America with a population of 2.7 million people, yet we only have one golf range in the entire borough. That's pathetic. Brooklyn is the same size as Chicago and far bigger than Houston, yet we have basically no golf practice facilities. It's quite unbelievable. Where are all the savvy NYC investors? Tell them to come to Brooklyn — an opportunity awaits!
FE: Your kids take lesson with Brian Hwang, one of the teaching professionals at The Bridge Golf Learning Center. Why is it important for your kids to play golf? 
SV: I'm selfish. I want my kids playing a sport that I love and can play with them deep into my senior years! Just kidding — ok, only partly! Golf is life-affirming. It teaches you certain values and skills that will last a lifetime. Golf is a difficult sport to learn so it takes a lot of hard work and practice to get good at it. Like life, nothing comes easy without diligence, preparation and sacrifice. The game teaches you how to control your emotions and stay focused, especially when dealing with predictable setbacks. Like life, there any many highs and lows in golf, and one has to learn how to properly navigate and adjust to adversity.
Also, the game is a good testament to one's character, and it embodies those values that can lead to success in life. It's a game that prides itself on tradition and strict adherence to rules and an ethical code of conduct. It teaches you the basis of true sportsmanship: integrity, discipline and respect.
Lastly, I want my kids to live their lives with gratitude, humility, honesty, purity, unselfishness, and love. In my personal opinion, golf is the embodiment of these principles and values.
FE: Why do you support The Bridge Golf Foundation and the Learning Center?
SV: I first learned of The Bridge Golf Learning Center a few years ago but never had the opportunity to visit the facility until this past March. When I did, I was absolutely floored. The facilities were state of the art with Trackman hitting stalls, and the Center has great PGA teaching professionals on staff. I immediately signed up for an adult class and scheduled a 10-lesson package for my two kids. I'm turning 50 this year and my wife is giving me a new set of clubs for my birthday. The Bridge Golf Learning Center is getting me custom-fitted for everything I need, from putter to driver.
Also, The Bridge Golf Foundation performs a valuable service through its community outreach programs in Harlem.
FE: What are your passions away from the game?
SV: I'm a horticultural and gardening enthusiast. As President of the Stuyvesant Avenue Block Association, I led residents of Stuyvesant Avenue to win first place (for residential entries) in the 2017 Brooklyn Botanic Garden "Greenest Block in Brooklyn" competition, which had more than 220 block entries. I also led Bainbridge Street in winning first place (for residential entries) in the same competition in 2015. When I'm not playing golf, you can typically find me gardening, pruning and deadheading plants and flowers throughout the neighborhood.