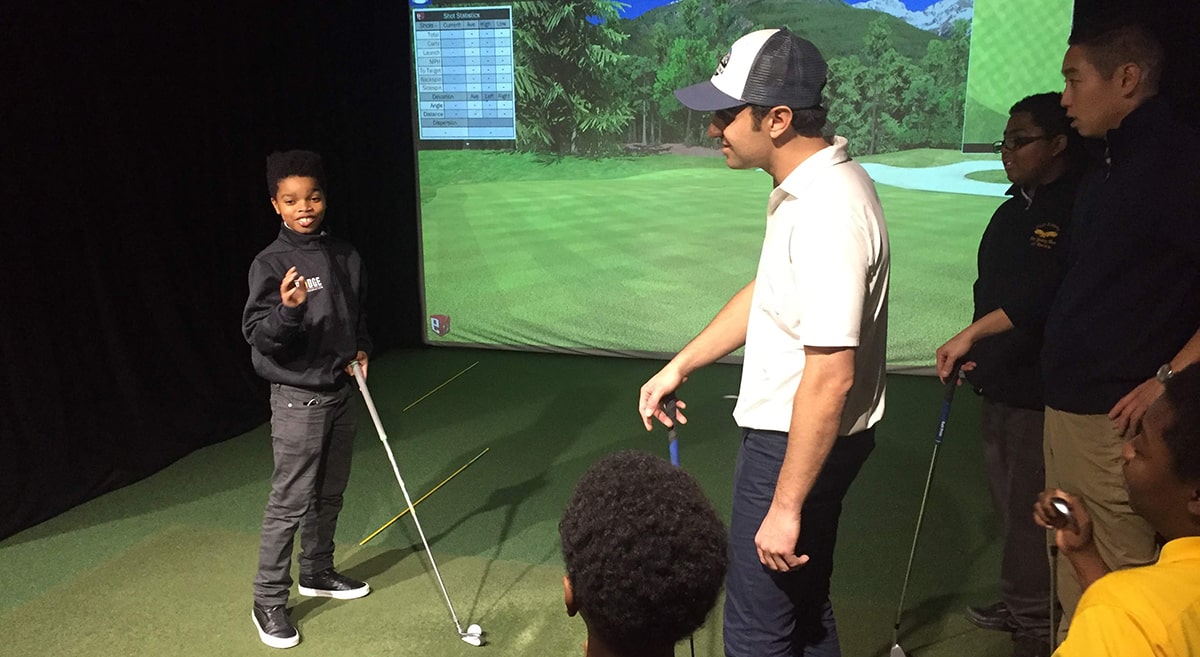 Darnell Wilkins, an 8th grader in our after school program, lives on Roosevelt Island with his mom, his older brother, and two older sisters. He recently fielded some questions from Charlie Hanger, our digital content manager.
CH: What's it like living on, and commuting from, Roosevelt Island?
DW: It's not as big as Harlem. People ask, "Where's that?" I just say it's near Queens. Even though it's considered Manhattan, there's not that much to do there, but the crime rate is extremely low. I've lived there since I was born. I don't take the tram much. The subway is better for commuting.
CH: You joined the Foundation over the summer. What did you think about golf before?
DW: I kind of knew golf before I came to the Foundation because my brother, Donte Jones, came to The Foundation for a while back when it first started. He told me about it, and I was interested in learning another sport. (I already play baseball.) He also told me about the STEM lessons, and I thought to myself that it might be a good program since I'm in 8th grade now, and there's going to be a lot of stuff that I need to know to get through high school. I felt like the education part might be even better than the golf part.
CH: How do you feel about golf now that you've been playing for a few months?
DW: I wasn't all that excited about golf at first. But I've learned that golf is similar to baseball. It's a ball and a stick that you use to manage the whole game, and looking at it that way has really helped me. The first week of fall was hard for me because I had a broken hand and couldn't play, but I got better by watching and listening, and then it got more exciting when my hand was better and I could play. Now I like playing golf when I come to the Center.
CH: What's your favorite part of the game?
DW: Both Coach Bryan and Coach Randy say I'm great at the short game, which is chipping and putting, and that makes me feel great about myself because they say that short game helps the most. And as long as I have one thing down, I have less to go, and that just makes it easier.
CH: What similarities and differences have you noticed between golf and baseball?
DW: I usually play second base or third base, and in those positions, when the ball is about to get hit, you have to set yourself in a stance that lets you get to the ball. In golf, you have to position yourself in a similar way to hit the ball. I felt that was a good connection. And then when you field the ball, the way that you step and throw is the same way you rotate your legs and body to hit a golf ball.
What's different is the positioning of the ball. In baseball, you don't know where it's going to come to you, but in golf it's always in one position — on the ground. I used to swing at pitches in the dirt, so I felt like that was a little bit of a head start for me in golf. And the face of the club is so little; in baseball you have the whole barrel. And in baseball, you can hit a foul, and it doesn't count, but in golf everything counts. There are a lot of consequences to every swing.
CH: Do you play baseball all year?
DW: Pretty much. I play Harlem Little League. We have indoor clinics January through March, then we play in Marcus Garvey Park in the spring, and we play fall ball in Inwood. My team won the championship in the fall last year.
CH: What do you think about the academic portion of the program?
DW: In the summer, we did coding and tried to create a game using a coding website. This year I'm in an honors math class, and so are some of the other kids, so Charlie (Cohen) and Oscar (Flores) have been helping us out with some of our work from that class. We've been working on Algebra 1 stuff, functions and graphing the y intercept and the slope intercept.
CH: What do you want to do when you grow up?
DW: I want to be a biochemical engineer if I don't become a professional baseball player. All my siblings want to be something in science. I liked some of the stuff I was learning about biochemistry in the beginning of 8th grade, and I researched it to find out how much they make and what they do, and I feel like I could do it.
CH: If you could play for any baseball team, which one would you choose?
DW: The Yankees. My grandpa was drafted first round by the Yankees, but the Army drafted him too, and he was in Vietnam. And my family is from New York, so I feel like that's the team for me.
CH: What's your favorite video game?
DW: I only play baseball games. My favorite is "MLB The Show."