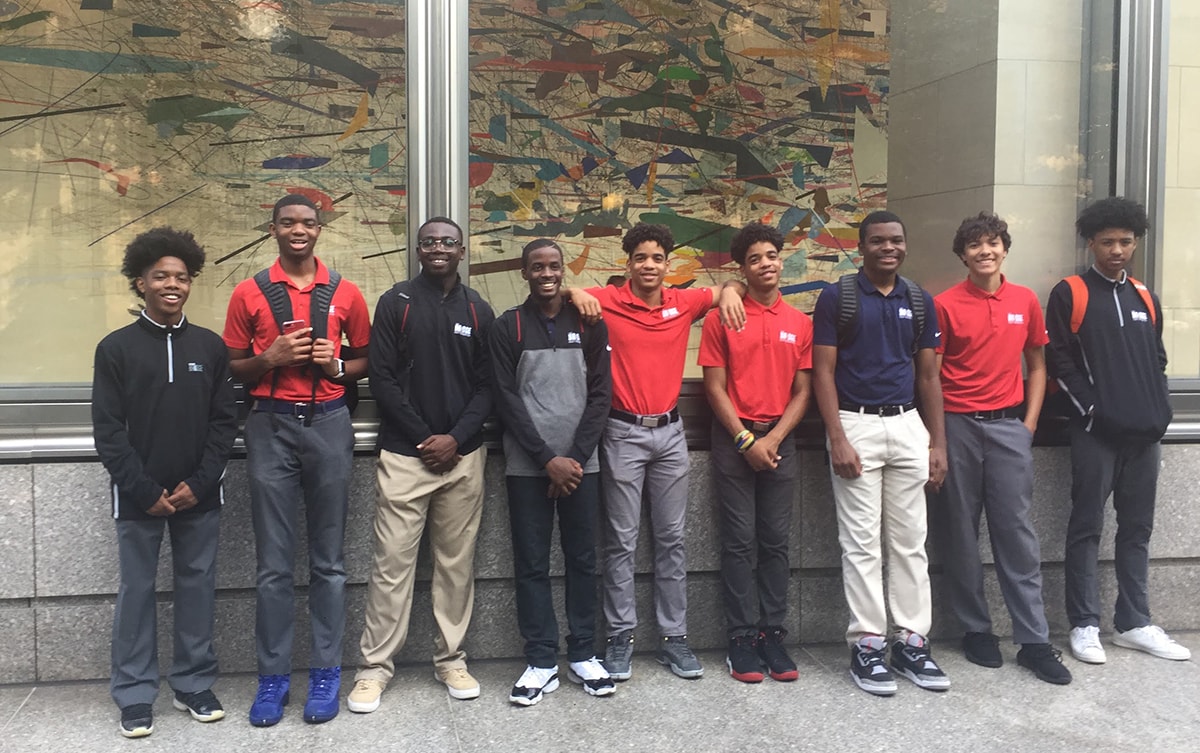 The young men of The Bridge Golf Foundation headed downtown on Friday to Goldman Sachs for a rare opportunity to learn from the employees of one of the most prestigious financial firms in the world.
The morning began with a financial literacy seminar and a simple question: Why do you think you're here? Dameul McGill got right to the heart of the matter.
"So that we understand what's going on with money," he said, "and so we won't have to depend on other people in the future."
That answer was met with resounding approval from Danielle O'Bannon, who works in the investment management division at Goldman Sachs and led Friday morning's session. She was joined by John Fizer, who works in the technology division and is on our Foundation's advisory board; Evy Exime, an analyst in the human capital management division; and several other employees volunteering with the company's Community TeamWorks program.
The seminar touched on spending and saving decisions, different types of bank accounts, credit cards, budgeting, interest rates, investing, and planning for retirement. Our students teamed up with Goldman employees to work through a money-management activity in which they were given a fixed income and fixed and variable expenses, with the goal of creating a mini-budget that would leave them enough money to buy a $120 concert ticket. The exercise led to a lot of thoughtful decision-making — Do I really need to buy breakfast every morning? What if I get a less expensive phone plan? — and drove home the crucial point that planning is key and financial decisions have consequences.
The Goldman employees, many of whom were fairly recent college graduates, also spoke extensively about how to pay for college, the different types of loans available, the pitfalls of borrowing, and how to apply for scholarships. After lunch a panel of four young Goldman employees from diverse backgrounds shared their experiences in a wide-ranging discussion that covered college debt, joining the workforce, and learning how to manage money.
Khadija Bingham, an analyst in the internal audit division who also runs the Money Honey blog, said she learned from her parents' mistakes managing and saving money, and that she first learned how to manage her own finances when she was at Penn State. As aware as she was, she still had regrets, in particular taking out student loans without fully understanding what she was getting into.
"My life would be so much different without student loans," she said. "I didn't ask enough questions."
Our young men were also curious about how these young professionals, who came from similar backgrounds, were perceived by family and friends now that they were working for one of the most prominent financial firms in the world.
"Everyone is super proud, and people still love me even though I've moved away from the neighborhood," Bingham said.
Uzo Amuzie, an analyst in the technology division, said his success has validated all of his parents hard work, and he stressed how important it was for young people of color to be exposed to the details of finance and to learn from others who have gone before them.
"We don't necessarily have these conversations in our communities around being a fiscally responsible adult," he said. "I made it a point in college to start doing this. I wish I had had this information when I was in high school."
After the panel, it was time for a shake from Shake Shack and a walk to the 9/11 Memorial waterfalls and reflecting pools, where STEM teacher Oscar Flores led a discussion of their symbolism both as art and memorial. He talked with our young men about the use of water in the memorial, the designer's intent, and how to relate such a powerful display to our Foundation's Water Fair and our general focus on water issues and water conservation.
When it was time to head back uptown, our young men had plenty to process from a fun, educational and inspiring day, but this was just the beginning. As part of our college and career readiness program, we will continue to work on getting them prepared to make smart financial decisions, work that will pay dividends for a lifetime.