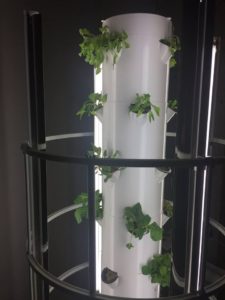 By Herbert Brown, STEM Program Co-Leader
One of the most interesting group projects that will be on display at Saturday's Water Fair is our Tower Garden, a vertical, soil-free garden that is perfect for urban farming.
The garden of lettuce, chard, bok choy and basil is a collaboration with the 7th grade science class from the Eagle Academy for Young Men of Harlem, one of our partners for the Water Fair along with the Columbia Water Center and the Physics Department at The City College of New York.
The garden relies on mineral blends, which are rich in raw nutrients needed for plant growth, to circumvent the need for soil. The 7th graders from Eagle have been visiting on a weekly basis to monitor the garden's progress. They are doing a quantitative analysis of the growth process and balancing the pH of the garden's water reservoir after adding the mineral blends. The students have been measuring the plants, recording the dimensions, and analyzing the ratio of plant growth vs. the amount of mineral blends added on a weekly basis.
To see the garden in person and hear from these 7th graders about what they've learned, RSVP today and come to the Water Fair at MIST Harlem this Saturday.