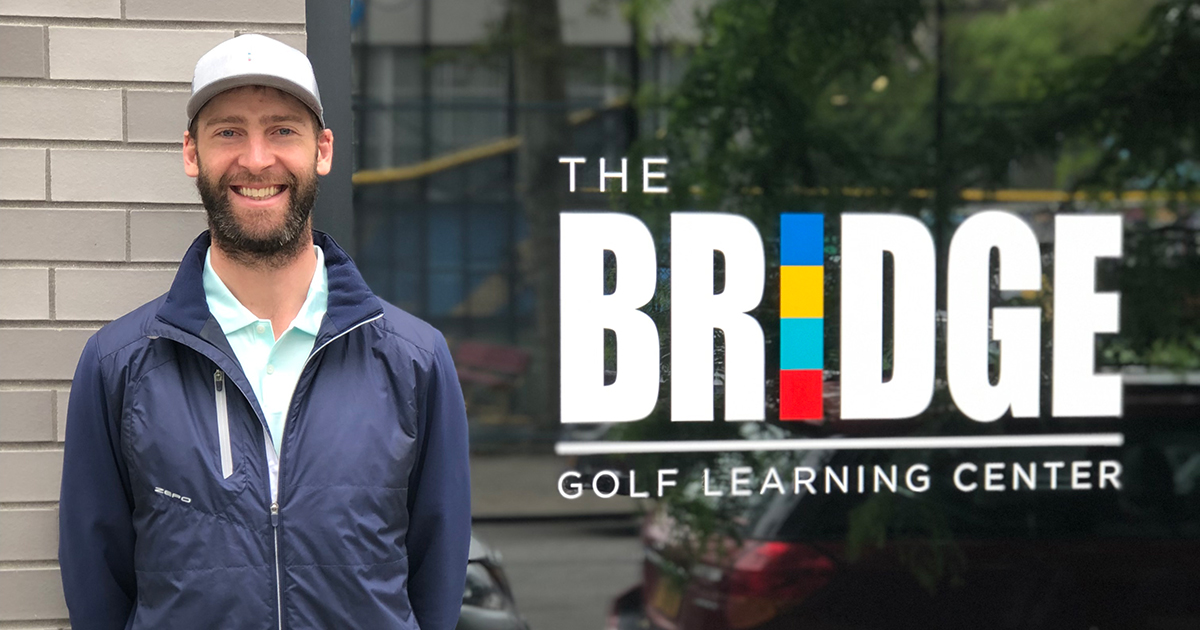 Michael Mancz recently took on the new role of PGA First Assistant Golf Professional for the Foundation and Learning Center. Last week he fielded some questions from Charlie Hanger, digital content manager for The Bridge Golf Foundation.
CH: You just took on this new role after working part time as an instructor at the Learning Center for more than a year. What are your primary responsibilities?
MM: I have a few different roles within the organization. First comes working with our Foundation students. Being able to teach our young men the game of golf is very rewarding and a lot of fun. On top of that, I have the opportunity to give private lessons to individuals who come to the Learning Center when our program is not in session. When I am not teaching, I help to manage the day-to-day operations of the golf facility. One of the things I love about the job is that there is always something going on and there never seems to be a dull moment!
CH: Tell us about your career in the golf business. How did you end up working with us in Harlem?
MM: This year, 2019, marks my seventh year working in the golf business. Originally from Ohio, I took my first full-time job out of college in New York, and I haven't looked back. Working here in Harlem started out as a winter job for me back in 2017. At the time I was working at a country club, so when they closed down for the season, I was lucky enough to find indoor work with the Foundation.
CH: A country club is obviously a much different environment from our Learning Center in the heart of Harlem. What led you to make the change to working with us full time?
MM: I think the uniqueness of the organization and what the job entails ultimately led me to make the change. I have always worked in the private club arena, which I love, but when the opportunity came along to work for the Foundation, and to be involved with all the great people here on a daily basis, I could not pass it up. Exposing our young men to the great game of golf is very rewarding and a fun challenge. Also, getting to develop as a golf instructor and a coach, and having the chance to work for Mike Sweeney, one of the best golf professionals in the Metropolitan Section, is an added bonus.
CH: You went to Wright State in Dayton, OH. Were you on the golf team, and what advice would you give to our young men who might be interested in college golf?
MM: Coming out of high school, I was not quite good enough to be recruited by a Division I school. Even though that was a disappointment, I was still able to compete in summer tournaments and remain competitive throughout the year. It also allowed me to focus on my school work. My advice for our young men who are interested in playing golf in college is to learn time management. You will juggle so many things when you get to college, whether it is school work, playing for the golf team, or trying to maintain a social life. Without being able to structure your time effectively, it will be a struggle.
CH: You are a PGA Class A pro and a U.S. Kids Golf Certified Coach. What's involved in getting those certifications?
MM: Becoming a member of the PGA of America took me about four years. There are three levels you must pass to complete the program, and each consists of attending seminars, completing coursework, and passing tests. You learn all about the different areas of the golf business, from teaching the game to tournament operations and cart fleet management. You wear many hats as a golf professional and are constantly learning something new. Becoming a U.S. Kids Certified Coach required me to attend a seminar and complete a few tests. A lot of my job consists of teaching youth, so I want to do everything I can to improve my ability in that area.
CH: Talk a little about your approach to teaching golf, and specifically to working with junior golfers.
MM: The thing you have to remember about teaching golf is that every student is going to be different. We all have different abilities that need to be taken into consideration. With that said, I am very adamant about starting with the basics. Grip, aim, posture and alignment are important factors that often get overlooked by my students. After I know we have a solid base to start from, I will start looking at the swing and figuring out what movements need to be worked on in order to produce a better impact position and consistent strikes on the golf ball.
As far as teaching juniors, keeping the game fun is my No. 1 goal. I do not like to get too analytical, and I like to make sure they are exposed to all facets of the game, not just swinging a club. Golf teaches us so much about life that I think everyone would benefit from trying it out at a young age, even though it may not be the most popular sport out there with kids.
CH: What are your aspirations as a player?
MM: My long-term goal as a player is to become competitive in the Metropolitan Section of the PGA. There are so many opportunities for us to compete, and I want to be able to take advantage of that. On a day-to-day basis, I have always been focused on constantly improving. There is always a way to get better each day, whether it's with the long game, short game, putting, fitness, course management or any of the other skills that go into making a complete player.
CH: Who is your favorite pro golfer?
MM: That's easy. My favorite golfer is Tiger Woods. I grew up idolizing what he did on the golf course, and he is a big reason I developed such passion for the game. It has been fun to watch him make his latest comeback, and hopefully he can remain competitive for a little while longer.
CH: Which golf instruction guru do you most admire?
MM: There are so many golf instructors out there that it would be hard to pick just one. They all have their own ideas and nuances when it comes to the golf swing, and I enjoy reading about them. Recently, I have been studying Jim McLean and his philosophies about the game.
CH: What was the last book you read? Do you have a favorite golf book?
MM: The last book I read was "Harvey Penick's Little Red Book," which also happens to be one of my favorite golf books. Penick was a famous golf instructor and head coach at the University of Texas who worked with Hall of Famers like Tom Kite and Ben Crenshaw. His book shares the many experiences he had as a golf coach and instructor as well as his advice on how to play the game. I would definitely recommend it for any golfer or golf fan out there.