Omar James Mendoza, a STEM Program Assistant at The Bridge Golf Foundation, is majoring in mechanical engineering at The City College of New York. He recently fielded some questions from Executive Director and Co-Founder Farrell Evans.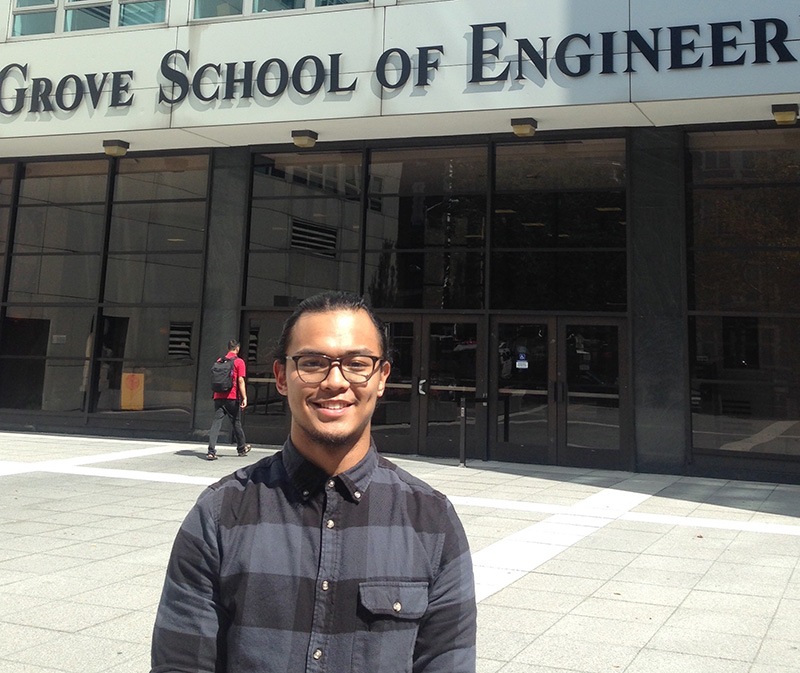 FE: You recently joined The Bridge Golf Foundation as a STEM Program Assistant after volunteering with us for almost a year as a tutor. What attracted you to The Foundation?
OJM: I first heard of the opportunity of volunteering when a dean of the Grove School of Engineering at City College forwarded an email from Veeshan Narinesingh.
After doing some research on The Foundation, I immediately reached out to Veeshan because I thought it would be a great way for me to give back. Engineering and science are tough, and it's really hard to succeed on your own, especially when many young men see asking for help as a sign of weakness. You need to work hard and persevere, but no one achieves greatness without some helping hands along the way. I wanted to be that helping hand.
FE: At City College, you are a mechanical engineering major. How does that area of study prepare you to work in our STEM program and assist the young men in hands-on lessons?
OJM: I have to study and understand lots of STEM concepts from textbooks,  but mechanical engineering also requires hands-on work that has been crucial to my understanding and forces me to develop a different "engineering" perspective for learning. This experience helps me design lessons with practical applications that will really drive home STEM concepts for our young men.
FE: When did you first began to take math and science seriously as a student?
OJM: In middle school. Having just immigrated from the Philippines, it was a great way for me to connect with other students and teachers.
FE: You were the captain of your high school football team. What position did you play, and how has the experience of playing football influenced your life?
OJM: For the most part, I played defense, strong safety and other positions in the secondary at Susan E. Wagner High School on Staten Island. Coach Alan Paturzo and the entire coaching staff taught me the importance of perseverance, hard work, family, and friendships. Having a successful season was hard to achieve in my four years there, but I gained lifelong friends and learned lessons that still help me every day. As the captain, I learned to lead by example and to encourage and support my teammates.
Our motto, like the 506th Parachute Infantry Regiment, was "Currahee!," which comes from a Cherokee word that means "stand alone." It means "together we stand alone"; we stuck together as a team and learned from each other.
FE: What's your most memorable game experience?
OJM: In my sophomore year I was the captain of the JV team. Our homecoming game was against our rival high school on our newly constructed field. I couldn't play because of a concussion, which upset me, but I was thrilled for my team and encouraged my teammates, and we won by a landslide. I was able to lift my teammates up and be a leader even though I wasn't on the field. That was a valuable lesson.
FE: Brain injuries are a major safety concern in football. What can be done to make the game safer?
OJM: Having had a concussion, this is something I understand on a personal level. One way to make the game safer is to engineer better equipment to protect the players. We also need to educate the athletes, coaches, and officials about brain injuries so they can prevent them, identify them, and treat them correctly.
FE: What's your favorite football team and why?
OJM: I love the Giants. Super Bowl XLll was the first Super Bowl I watched, when the Giants upset the 16-0 New England Patriots in electrifying fashion. That showed me you can come out victorious if you persevere through adversity, no matter the odds.
FE: What are your long term career goals after graduation?
OJM: I plan on getting my professional engineering license, which will allow me to own my own company. Through engineering and other work, I want my company to help people.
FE: You were born in the Philippines in Batangas City. What's fun to do in this city?
OJM: One of the top things to do in my hometown is to visit the Taal Volcano. It's an active volcano located in a lake in an island, which itself is in a lake. It should be considered one of the wonders of the world.