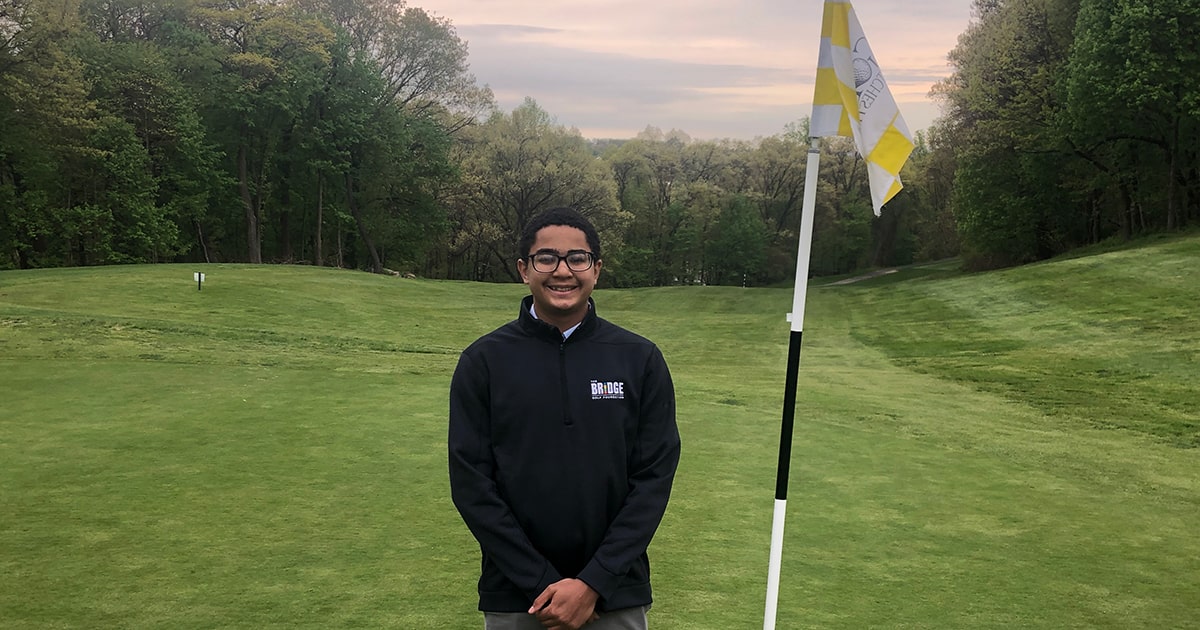 Chris Rodriguez is a ninth grader at the Eagle Academy for Young Men of Harlem who joined our after school program in November. He recently sat down for an interview with Charlie Hanger, digital content manager for The Bridge Golf Foundation.
CH: What made you want to sign up for the after school program?
CR: They said that they could help with homework, and back then my grades were bad. Oscar (Flores), Charlie (Cohen) and Omar (Mendoza) have helped me with my grades a lot. We've been focusing on math, and my grades have been improving.
I've been in other after school programs, but this is the only one I've liked. When I'm in the Learning Center, I feel like I've been coming there for a long time because everybody is nice to everybody, and they help me with my work and with golf — both the staff and the students.
CH: Besides math, what other lessons have made an impact on you?
CR: The first month I went to the Foundation, we studied some of Meek Mill's lyrics. He was in jail when he was 19 for a crime he didn't commit. I couldn't directly relate to that experience, but it touched me.
CH: You are the newest addition to our high school group. Tell us about the adjustments you've had to make in joining a group that had already been together for a couple of years.
CR: I knew several of the guys from school, so that made it easier. But the golf was definitely hard in the beginning because everyone else knew how to play and I didn't. I felt left out a little, but I wanted to learn, and I like it, and I've gotten a lot better.
CH: What's the strongest part of your game?
CR: My chipping, because that was the first thing that I started working on with Brian (Hwang), so I've had more experience.
CH: And what have you found most frustrating?
CR: Putting, because the greens are fast and long and the ball goes straight and then turns right or left — it's annoying.
CH: What are some challenges you face as a young man of color growing up in New York City?
CR: My neighborhood is bad, and I live in the projects. When I come home at night, a lot of people are usually hanging out outside. Some of them I know, and they ask me to hang out, but I just say no.
CH: What are your interests outside of the program?
CR: Sports. I like playing and watching football, especially college and high school football. In college football, there are a lot of teams, and I think they play harder than the NFL. My favorite college football team is Alabama. I also like to watch track and field videos on YouTube, especially highlights of Usain Bolt.
CH: Do you know what you want to do when you grow up?
CR: I'm interested in engineering, especially cars. I like to build stuff.
CH: What was the last book you read?
CR: The Fault in Our Stars. It's a very emotional book and made me sad. It's a great story even though it has a sad ending.
CH: You went on a group trip to visit Stony Brook last week during spring break, and then to The Bridge. Tell us about that.
CR: Stony Brook is nice, but I don't think it's the college for me. The Bridge was really nice. We played six holes, and the course was really big, more open and longer than Dunwoodie. We ate lunch and dinner before coming back to the city, and the food was great.